Nearly 75 years ago, one young man pursued a big dream. The dream of having a school on a farm; a place where animals aren't just friends, they are teachers. After seven and a half decades and many milestones, Green Chimneys is thriving as a renowned therapeutic education and treatment facility for children with special needs.
The story of Green Chimneys is a long and wonderful adventure starting on October 27, 1947 with the Ross family's purchase of a 75-acre dairy farm. At just 19 years old, inspired by childhood boarding school experiences and a genuine devotion to animals, Samuel B. "Rollo" Ross, Jr. established an environment where children and animals could live together in a farm setting.
Green Chimneys opened its doors in June 1948 with 11 children ages 3-6. Led by a small staff providing academics, recreation, and a loving environment, the school offered the children the unique experience of interacting with and caring for the animals that also lived there.
The marriage of Sam Ross and Myra Mattes in 1954 cemented a lifelong partnership that played an important role in the growth of Green Chimneys. They both saw from the very beginning the potential to serve children and families in many different ways. The couple became pioneers in the practice of animal-assisted activities as part of a child's education and emotional well-being. As years went on, the integration of animals and nature grew into a core component of Green Chimneys' clinical approach, adding a dynamic and beneficial element to its special education and therapeutic treatment programs for children facing social, emotional and behavioral challenges.
Today, Green Chimneys is a premier nonprofit education and human services agency serving thousands of youth and families each year. As a leader in animal-assisted and nature-based practices, Green Chimneys has achieved global recognition in education and advocacy for children with a unique focus on the human-animal connection. This interconnection of human well-being, animal welfare, and environmental stewardship is ingrained in Green Chimneys' founding principles, and alive in the community of dedicated professionals who work at Green Chimneys, among supporters and partners across the globe, and most importantly, in the children and families we have had the honor to serve.
In 2022, we remain inspired by the legacy of our founders and the magnificent organization they built, and we invite you to join in the celebration of Green Chimneys' 75th year. We enter this year filled with pride, and pause for reflection, as we continue our mission in helping young people to maximize their full potential by providing residential, educational, clinical and recreational services, in a safe and supportive environment that nurtures connections with their families, the community, animals and nature.
Celebrate with us!
Help sustain Green Chimneys for the next 75 years and ensure the continuance of therapeutic education and nature-based programs for children with special needs.
Click on one of the sections below to explore upcoming events and so much more.
With roots deep in nature-based practices, Green Chimneys has grown to serve thousands of families through education, clinical, and recreational programs. The expanse and longevity of our services also speaks to exceptional leadership, partnerships, and support we have received along the way. We are eternally grateful to our founders, Rollo and Myra Ross, for their lifelong commitment to helping children and animals. And while it's impossible to list everyone here, we are truly appreciative of the individuals and organizations who share a commitment to therapeutic education and animal-assisted services. Thank you for being a part of Green Chimneys' past, present, and future!
Click on or tap a photo for more information.

The Barbara Apisson Testamentary Trust

Green Chimneys Summer Camp programs

enable children to socialize and connect with nature, while providing their families with much-needed child care during the summer months. The Barbara Apisson Testamentary Trust is one of the generous funding partners who allow us to offer camp scholarships to local families with limited financial means. Since 2018, their support has enabled us to award camp scholarships to 100 children. We are especially grateful for their support over the past two years, as the pandemic has made it difficult for many families to afford camp opportunities for their children. The generosity and flexibility of the Trust enabled us to provide children with outdoor programming during the school year while schools remained remote and children needed outlets for safe socialization. The Trust is named for the late Barbara Apisson, who immigrated to the US from Armenia in 1915 to escape the Armenian Genocide, and held a strong belief in the healing qualities of nature and a life-long love of animals. Following her death in 1996, her family established the Trust to ensure that children of all means could experience a summer of fun and learning in nature. We are honored and grateful to help realize Ms. Apisson's legacy.
The EQUUS Foundation was founded by Lynn Coakley in 2002 to safeguard the comfort and dignity of America's horses throughout their lives, and share their ability to empower, teach, and heal with as many people as possible. Since 2009 EQUUS has been a generous supporter of Green Chimneys' equine-assisted programming, helping us provide veterinary care, equipment, and supplies for our herd. Lynn was inspired by our founder, Samuel Ross: "I had the privilege of meeting Dr. Ross for the first time in 2001 when I was Chairman of the Fairfield County Hunt Club June Show and Green Chimneys was recommended to be a charitable beneficiary of the show. Visiting Green Chimneys and seeing Dr. Ross's pioneering accomplishments in animal-assisted therapy was truly inspirational. It was that visit that inspired me to establish the EQUUS Foundation to ensure that Green Chimneys, and other outstanding equine charities, could be supported on an ongoing basis." We are grateful for the steadfast support of the EQUUS Foundation and for sharing our commitment to ensuring that horses are safe, protected, and treated with dignity.
Access all of the latest information on upcoming events by visiting our
As a nonprofit, Green Chimneys relies on the generosity of others to sustain critical therapeutic education and nature-based programs as well as clinical services for children with special needs.
Make a difference in the lives of children and animals.
Our History
Original Green Chimneys property is purchased by the Ross family.
1947
Green Chimneys Farm for Little Folk opens with eleven students aged 3-6 years old. Young Samuel Ross leads a small staff to provide academics, recreation, and a loving environment for the children, with the unique experience of interacting with and caring for animals.
1948
Following numerous requests by parents wanting to send a younger sibling, or asking if their child could stay for just one more year, the school expands to include children aged 2-9.
1952
Samuel Ross marries Myra Mattes, a teacher from Danbury, CT, on the grounds of Green Chimneys, building on the strong educational foundation and family atmosphere of the school.
1954
It becomes apparent that the children attending Green Chimneys are in need of a year-round program. Dormitories and a middle school are added to the campus and a summer camp program eliminated to make room for New York State's first 12-month nonprofit school program.
1966
The farm and riding program opens to the community-at-large as Green Chimneys Farm Center offers public programs and opportunities for students in residence to interact with the outside community.
1971
Hillside Outdoor Education Center is established for year-round adventure programs and summer camp.
1972
Green Chimneys becomes a social services agency and 853 special education school increasing resources for, and public access to, its residential treatment services, and enabling all children to attend tuition-free.
1974
Green Chimneys acquires 40 acres of farm land across from the main campus and creates Boni-Bel Organic Farm.
1980
Nature's Nursery pre-school opens as a full-day year-round program for 3-5 year olds.
1981
Establishment of The Henry J. and Erna D. Leir Global Internship Program, offering a unique immersion experience for individuals interested in exploring the human-animal bond and nature-based activities to benefit children with special needs.
1982
Gramercy Residence opens in Manhattan as a group residence to prepare troubled youth for independent living. Program later transitions to serving LGBTQ youth.
1984
Farm Center expands with the addition of the wildlife rescue and rehabilitation program.
1988
The Country Store opens at Boni-Bel Farm serving the community with a local farm market and gift shop, and as a vocational program for Green Chimneys students.
1993
Therapeutic Day Program opens, providing a special education day school option for students from local districts.
1995
After serving in a number of agency management roles, including School Principal, Joseph A. Whalen is named Executive Director. Founder Dr. Samuel Ross becomes Managing Director of The Friends of Green Chimneys, overseeing all fund development activities.
1996
Green Chimneys acquires Clearpool, a 100-year-old outdoor education and recreational facility in Carmel, New York and assumes its dynamic environmental/nature program and summer camp.
2008
In recognition of long-standing ties and strong support from Paul Newman's namesake company and charitable foundation, Green Chimneys names its school complex The Newman's Own Education Center.
2010
Following a needs assessment across 61 school districts, Green Chimneys School is approved for 32 middle school seats at its Clearpool Campus, expanding its therapeutic program to serve even more students in need of special education.
2012
Two most notable additions to the Farm & Wildlife Center arrive a la caravan all the way from California. Bactrian camels Sage and Phoenix are ceremoniously gifted to Green Chimneys by Sacred Camel Gardens, and quickly become beloved members of the farm.
2012
Green Chimneys marks 65 years with the launch of The Sam and Myra Ross Institute, which serves to deepen the legacy, vision and impact of its animal and nature-based programs by demonstrating how purposeful contact with animals and the outdoors can enhance formal therapies and traditional education, and sharing knowledge to bring continued growth and leadership to the field.
2012
Clearpool Model Forest initiates first projects demonstrating best practices in forest management and water conservation, along with educational programming for the public.
2013
Dr. Samuel Ross is presented with the prestigious Andrew Goodman Hidden Heroes Award, recognizing his lifetime humanitarian efforts.
2013
Green Chimneys' 20-year-old humane education event is refocused and relaunched as the Human-Animal Interaction Conference, highlighting therapeutic practices and research in the integration of animals into treatment.
2013
Three-week-old baby emu arrives and becomes Green Chimneys' first farm resident to be named by the public via social media voting campaign.
2014
Dog Interaction Program is introduced to provide students opportunities to build important skills as they participate in the training and socialization of shelter dogs, helping to ready them for adoption.
2014
The Institute conducts its first formal research study to test the benefits of animal-assisted interventions by integrating dogs into social skills training for children with Autism Spectrum Disorders.
2014
Green Chimneys awarded $750K from NYS Empire State Development Corporation to assist expansion of the school on the Brewster campus and update Nature's Nursery.
2015
Animal Interaction Assessment clinical tool is developed by Green Chimneys and made public for practitioners to guide treatment decisions and therapeutic approaches that involve animal-assisted activities.
2015
Summer Camp program recognized by American Camping Association with the Eleanor P. Eells Award for Program Excellence.
2016
Joe Whalen receives Lifetime Achievement Award from his alma mater, Mercy College.
2016
Clearpool Model Forest opens newly mapped trails and points of interest for public access.
2016
Dr. Edward Placke named successor to long-time Executive Director Joe Whalen. Placke to assume leadership in Spring 2017.
2016
Green Chimneys makes its Broadway debut as a featured nonprofit on the Times Square billboard operated by finance giant Morgan Stanley, as part of a multi-media campaign highlighting causes supported by the corporation.
2016
Green Chimneys and University of Denver's Institute for Human-Animal Connection initiate joint research to study the impact of Green Chimneys' unique farm programs on developmental health and education outcomes for its students.
2016
Nature's Nursery awarded Putnam County Day Care Center of the Year by The Child Care Council of Dutchess and Putnam.
2016
Dr. Edward Placke takes the helm as Executive Director with a symbolic 'passing of the reins' celebration attended by the entire Green Chimneys community.
2017
Green Chimneys and County officials cut the ribbon on Ross Hall, a new academic building with state-of-the-art classrooms for the school's elementary grades.
2017
Over 100 runners turn out for the very first "Conquer the Forest" trail run to challenge themselves through the forests and fields of our scenic Clearpool campus.
2017
Green Chimneys celebrates 70 years at its annual gala, with the Ross family in attendance.
2017
Green Chimneys Founder Dr. Samuel B. Ross, Jr. dies peacefully at the age of 89, surrounded by his family.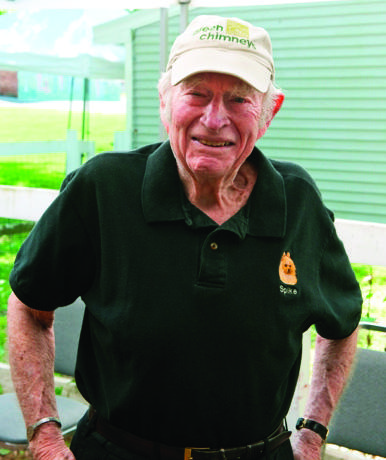 2018
Community-Based Services opens Putnam County's only Transitional Living Program for 16-21 year olds who are, or at risk of becoming, homeless. The shared residence provides a safe, stable environment, life skills development, and social supports to prepare young adults for healthy, independent living.
2018
Green Chimneys Founder Myra Ross dies peacefully, among family, at the age of 88.
2019
It's a banner year for media coverage as Green Chimneys is featured in The New York Times and broadcasted nationally on NBC News and across the New York region on Fox5 NY News.
2019
Wildlife staff become TV stars when the Bronx Zoo brings an injured turkey vulture and a crew from Animal Planet series "The Zoo" to share the story of the bird's rehabilitation and successful release back into the wild.
2019
Publication of findings from phase one of the joint Green Chimneys-Denver nature-based research, including a compendium of full program documentation and an article in The Journal of Youth Development.
2019
Following the rescue and extended care of a Bald eagle, the U.S. Fish and Wildlife Service officially designates Green Chimneys as the permanent home for the unreleasable bird – a rare honor for a wildlife center!
2019
Green Chimneys is the first special education school in New York State to resume in-person instruction during the COVID-19 pandemic.
2020
With increased leisure time spent outdoors during the pandemic and more people observing and caring about wildlife, Green Chimneys rescues a remarkable 180 birds spanning 37 different species.
2020
Green Chimneys never ceases operation as 484 staff continue to serve 254 students, and 1000 community youth and their families.
2020
A third camel officially makes a herd! Green Chimneys welcomes Bunni, a 9-year-old dromedary from Texas.
2021
Three months after a joint rescue effort by good Samaritans, park rangers, and DEC officials, a rehabilitated Bald eagle is majestically released back into the wild at Clearpool.
2021
How You Can Help
Ask about your company's matching gift program
Brownie
With the completion of an elaborate new habitat built by Green Chimneys' woodshop students, the Farm Science classroom was able to welcome Brownie into her new home. Brownie previously lived alone in her cage in the farm and wildlife office, but guinea pigs do best in larger environments. The new habitat allows her to live in a herd as she would in the wild, with many places to hide and ways to practice her skills. Brownie has always been a social creature, and she has taken over the guinea pig herd but is a very peaceful leader.